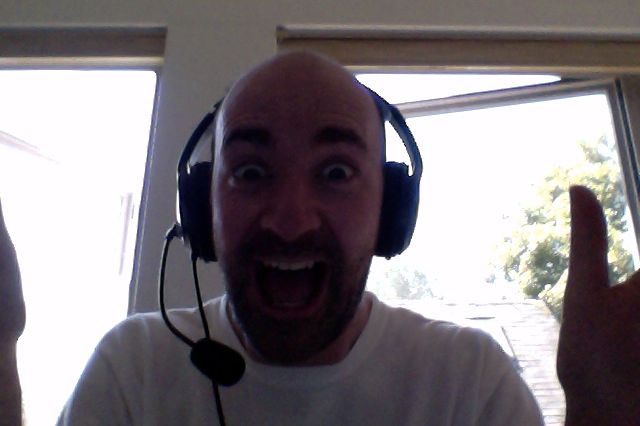 Ladies and Gentlemen: GRAEME MCMILLAN IS.
The nice thing about writing a post during which you lose your mind and decide the best thing to be done is to embed as many of the lyrics of an Elvis Costello song as you can is you realize: (a) it can't be topped; and (b) maybe you're allowed to go easy on yourself every now and again; and (c) your attempts to give the page a catchy image and a bit of punchy jibbety-jab really only go so far, as it's the actual thing you are introducing that people are (or are not) here for.
(Also, you realize you are addicted to parentheticals and alphabetized lists, and have no idea exactly how you're going to get those particular monkeys off your back. Is there a twelve step group underwritten by the Chicago Manual of Style?)
(Also, these muscle relaxants aren't really capable of doing shit as far as making you feel mellow and floaty, but they're kind of dynamite for making you feel like every word you're typing is WRONG, in a near-sacrilegious way. I feel like Henry god-damned Miller writing this thing!)
Anyway, Wait, What? Episode 90 is here, lemme just shuffle off to Buffalo and bring it on: it's two hours and twenty-one minutes, it's Graeme and I answering the questions on Twitter we forgot about until Rick Vance (I...think?) reminded us, it has us talking Batman: Earth One by Johns & Frank; Skull The Slayer; Steve Englehart (lots and lots of Steve Englehart); Dracula World Order by the fabulous Ian Brill; Batman #10, Andy Warhol's Robocop (not at any particular length, sorry); Spider-Men #1, and our old buddy "much, much more."
Those what like iTunes will have have already dipped their toes into our radiant tide pool. The rest are invited to remove your shoes, roll up your pant legs, and wade in below:
Wait, What? Ep. 90: Back in the Game
As always, we hope you enjoy and thank you for listening!