Hellboy: The Crooked Man #1 (of 3)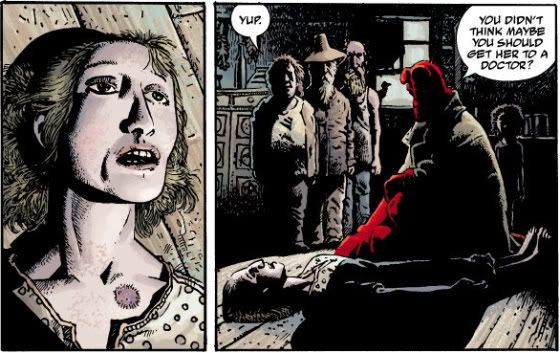 This is the second Hellboy miniseries teaming of creator/writer Mike Mignola and artist Richard Corben, and it might wind up better than the first (2006's Hellboy: Makoma, or, A Tale Told by a Mummy in the New York City Explorers' Club on August 16, 1993) - that's something, coming from me.
I think what really got to me about this issue is how it seems especially tuned to Corben's strengths; ragged, scraggly-looking people abound, branches jut above an environment coated in leaves, grass and dirt, and much of the horror comes from bodies twisting and cracking into odd, exaggerated forms. It's seemingly tailor-made for Corben's idiosyncratic approach to humans and nature, everything always a little off before fantastic sights push delicate reality right out of the way.
As a result, there's bits in this issue I just don't think Mignola could have done better himself - not a feeling I often get in the main Hellboy title, which has always been so close to its creator's personal style. Yet there's a stretch in here with a witch sitting atop a horse -- juxtaposing an alternatingly sleek and detailed pretty girl drawing, active and expressive (almost stretching and squashing, animation-style, with her movements and expressions), with this tactile, corpselike animal, model-like in its immobility -- that couldn't possibly have worked as well with Mignola, or really anyone but Corben.
The story, of course, is pure Hellboy-in-the-past. Our Hero finds himself up in the mountains of Virginia in 1958, investigating a strange case of possible witchery. He runs into a young man who's just returned home after 20 years, and knows a thing or two about the craft himself. They do run into trouble, but Hellboy mostly listens to Mignola's evocation of local folklore, as he often does in these things - he may hit something in a future issue, that I'll guess.
It's VERY GOOD, almost an ideal start to one of these things, brimming with enthusiasm for its specific setting from each creative area. But in the way that Hellboy is typically a visual spectacle first, it's Corben that registers hardest, adding a lived-in, fleshy quality -- and, frankly, a sexuality -- that pure Mignola mountains might have missed. I'm glad this one looks like it does.