IDW: where the paper quality is high, the licenses run free, the ads always sit in back, and it's $3.99 for a drive. IDW: what have you this week?
Tank Girl: Visions of Booga #1 (of 4):
This is the publisher's second Tank Girl miniseries, from original writer and co-creator Alan C. Martin. You might recall the first issue of the last series (Tank Girl: The Gifting) being a strikingly odd bit of work, with Martin's happy-go-lucky short-form gag stories being wrung onto the page via the art of Ashley Wood. It really did look a bit like that old MAD parody with Bernie Krigstein drawing Bringing up Father, except as a wholly intentional bit of franchise reinvention rather than a cutting spoof. It was memorable.
After that, layouts were provided by Rufus Dayglo -- a decade-or-so experienced 2000 AD contributer who also worked with Wood on later issues of the Metal Gear Solid: Sons of Liberty adaptation -- to a gradual upswing in straightforward cartoon style; I think he might have been the solo artist on a few of the short pieces near the end, or at least that's what the on-page signatures led me to believe. He and colorist Christian Krank are definitely the sole artists here, and they've got a very attractive style going, blending Dayglo's thick lines and manic action with a restrained scheme of faded hues (and lots of zip-a-tone patterns), warm colors gradually appearing to set off cool ones, more and more as the story goes on.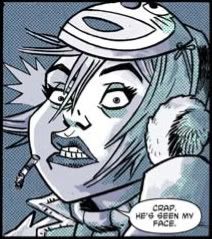 And yeah, it is mostly a single story this time. There's a five-page homage to Adam Ant and universal expansion in the back, but most of the space is taken up by Part One of a long flashback to Tank Girl and kangaroo paramour Booga in hard times, robbing a train for their pay and taking the fall for the Australian Mafia, then going on the run in what very well might develop into a road trip of discovery, populated by largely menacing characters asking for pain.
I typically like Martin's writing better in the short form, where he can stuff his off-the-cuff plot contortions, scatological gags and bits of wordplay into shots of experience - even his related prose book, Tank Girl: Armadillo, worked most effectively as vignettes strung together lackadaisically into a novel. This, however, seems comparatively diluted over the course of 18 introductory pages, its violent jokes isolated in story space and its depictions of corrupt authority shallower for the space given them. It's still OKAY, on the strength of Dayglo's and Krank's appeal - I'll want to see how Dayglo & Martin interface on their upcoming original project with IDW, pristeen16.
Dead, She Said #1 (of 6):
This, meanwhile, is a newer thing with even older roots. It's the first full-length comic to be pencilled and inked by Bernie Wrightson since... I guess it'd be Punisher: P.O.V. in 1991?
It's also Wrightson's latest work with writer Steve Niles; the duo teamed at Dark Horse last year for the miniseries City of Others, which saw the great José Villarrubia color directly from Wrightson's pencils. You can obtain a lot of effects coloring from pencils -- projects as visually diverse as All Star Superman and The Dark Tower make good examples -- but Villarrubia went for a minimally intrusive approach that only seemed to reinforce the 'unfinished' quality of the art for me, although I guess it was sort of appropriate for a story that barely managed to trudge through an introductory issue's worth of content over its entire length.
Dead, She Said, looks more complete, although Grant Goleash's dim colors are less menacing than murky, and Wrightson's pages are still lacking the compositional snap that he'd bring to even later-period works like Captain Sternn: Running Out of Time. He does manage a nice enough character design for the lead character -- a private eye who gradually realizes that he's become undead -- and there's a fun little stretch of physical business with Our Hero trying to keep his intestines from spilling out of a gutshot, but nearly every character here looks weirdly tired, posing in empty-seeming environments, especially when outdoors (where noir window shade shadows cannot hang).
Niles' story, as you can make out from above, is a supernatural detective thing, albeit not much like his Cal McDonald stories. For now. I can't really tell you what it is like, you see, since this first issue merely states the series' broad concept ('undead detective') and strings out a few plot details until the concept becomes slightly less broad ('framed for murder'). Meanwhile, nondescript characters encounter an unspecified threat, and the art isn't enough to enliven the scene. It's all pretty AWFUL for a four-dollar kickoff, and while I'm sure it'll pick up a little once there's added opportunities for grotesque visions, I doubt I'll have to urge to wait.