It's Valentine's Day! This Valentine's Day Judge Dredd's first and only love, The Law, sends a Valentine...straight...to...his...HEART!
JUDGE DREDD: THE DAY THE LAW DIED by Bolland, Wagner & Frame
Anyway, this… JUDGE DREDD: THE MEGA COLLECTION Vol. 33: THE DAY THE LAW DIED Art by Mick McMahon, Brian Bolland (Dave Gibbons inks one episode), Brett Ewins, Brendan McCarthy, Garry Leach, Ron Smith, Carlos Ezquerra and Henry Flint Written by John Wagner and Garth Ennis Lettered by Tom Frame, Dave Gibbons, Tom Knight and Jack Potter Colours by Chris Blythe Originally serialised in 2000AD Progs86-108 & 1250-1261 © 1978, 1979, 2001 & 2016 Rebellion A/S Hatchette Partworks/Rebellion, £9.99 (2016) JUDGE DREDD created by Carlos Ezquerra & John Wagner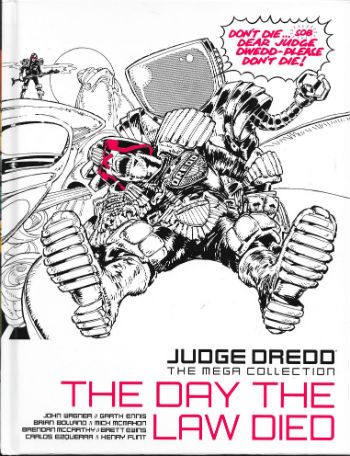 It's now established tradition that Dredd mega-epics are usually separated by the best part of a year so as to allow everyone to get their breath back, including the readers; but back in 1978 John Wagner must have been full of beans and youthful pep because Old Stoney Face would barely have time to wash his smalls after "The Cursed Earth" before being unwittingly embroiled in "The Day The Law Died". This one would be purely John Wagner's creature and as such it trades heavily in his trademark satire via absurdism, rather than the more in-yer-FACE!!! style favoured by Pat Mills. While "The Cursed Earth" had been an energetic and eye popping exercise in world building "The Day The Law Died" turned its gaze inward and set about consolidating the world of Mega-City One, with particular emphasis on The Judge system. Back in Mega City One Dredd is immediately framed for murder, dispatched to Titan, shot in the head and left in no doubt that the new Chief Judge, the flagrantly insane Cal, is up to no good. Heading a rag-tag resistance Dredd has to free his city from the autocratic maniac, his own Judges and Cal's Praetorian guard of Klegg alien mercenaries. Slicey-dicey! Oncey-twicey! Personally, my money's on Dredd.
JUDGE DREDD: THE DAY THE LAW DIED by Bolland, Wagner & Frame
Previously Judges had been shown as an elite police force with traffic cops and more routine police being glimpsed around and about the strips. The very name, "Judge" suggested they were high up some nebulous law enforcement hierarchy. It was now made explicit that the Judges were the police, the whole police and nothing but the police. They were The Law. Hmmm. That's catchy. However, there was still an elite police force, the Special Judicial Squad (SJS). These being an armed version of Internal Affairs, or the gimlet eyed automata known within most organisations as "Audit". Tellingly these salty looking SJS dudes sport a uniform even more fascistic than that of Dredd, and since Dredd's helmet has the twin lightning bolt emblem of the Schutzstaffel instead of eyes, that's pretty darn fascistic. Keeping these little charmers under control comes under the purview of the Deputy Chief Judge, second in command to The Chief Judge, the prime panjandrum of the Justice System. Both these sit on the Council of Five, with three other seasoned vets.
JUDGE DREDD: THE DAY THE LAW DIED by Ewins/McCarthy, Wagner & Frame
More seasoned vets are on show when the Judge Tutors appear to help Dredd. Back in the '70s the old saying was "Those that can't, teach. (And those that can't teach, teach P.E.)" Accordingly Judges who are no longer street fit end up teaching in The Academy of Law. Dredd has a bunch of these dudes with missing bits on his side. They are pretty funny; one guy calculates their chances of survival while they are falling to their probable doom, another is called Judge Schmaltz so…you can fill in the blanks there, I guess. Oh, Judge Giant turns up again reminding me that his presence links Judge Dredd to HARLEM HEROES. Alas, JUDGE DREDD was slow to incorporate black characters and Giant only appears intermittently hereafter. Since he uses the word "baby" and refers to his "pappy" this might have been for the best. He is, however, resourceful and instrumental in saving Dredd's bacon, so there's that. Apparently Mike McMahon started drawing Judge Dredd under the impression the character was black (mostly because his name was a garbled leftover from Pat Mills' pitch for JUDGE DREAD, a voodoo horror strip which didn't happen.) Imagine if they'd stuck with that!  You'll have to imagine it, because they didn't; Judge Dredd is white, baby. White like Pappy's bedclothes! Baby! Things look bleak for Dredd and Mega City One until he and his team of maimed trainers smash through to the undercity and land in the Big Smelly. Oh, yeah, turns out the undercity is the polluted husk of the American Eastern seaboard. Seems it was easier just to concrete over it and build Mega-City One (some landmarks were relocated above ground for the tourists e.g. Empire State building), the Big Smelly is the Ohio River. On impact, most of them die as a result, but they do meet Fergee who is a big lovable doofus with a penchant for ultra-violence.  Fergee's lack of smarts, specifically his failure to realise he is dead, will be instrumental in foiling Cal's plan to nerve gas the whole city.
JUDGE DREDD: THE DAY THE LAW DIED by McMahon and Wagner
Don't be deceived by those leaden paragraphs from my stilted hamd because Wagner is a talented writer, so he knows how to leaven the strip with exposition without sapping any of the demented drive of his tale. A tale which is an answer to an interesting question. What if someone with only the most tenuous grasp on sanity achieved the most powerful office in the land? Apparently he would build a big wall, institute a whole slew of authoritarian and often preposterous laws, throw a hissy fit when the public failed to display the requisite adoration, surround himself with pusillanimous yes-men and, basically, just abuse the office he holds and stain the system he represents like a crack addled Little Lord Fauntleroy. But enough about the 45th President of the United States! (Cue: sad trombone.) Weirdly enough that's also what Judge Cal does after he has connived his way into The Chief Judge's chair. "It is the doom of Man that he forgets!" squawks Nicol Williamson's skull capped Merlin in EXCALIBUR (1981) and he's not wrong. See, Wagner doesn't base Cal on the Roman Emperor Gaius Julius Caesar Augustus Germanicus (AKA Caligula) merely because he'd recently watched  the 1976 BBC production of "I, Claudius". I don't doubt that it helped, particularly as the late John Hurt's performance of "the little boot" was probably reliably arresting. (Wagner almost certainly hadn't seen Tinto Brass's porno-chic "cult" movie CALIGULA (1979), for which we can only be thankful.) No, he probably picked Caligula mostly because, well, "It happened before, it will happen again, it's just a question of when." as Charlton Heston narrates in ARMAGEDDON (1998). It's called learning from history, and when we don't this is where we end up. Also with Wagner picking the much maligned Roman Emperor the opportunities for absurdism knocked harder than a drunk whose forgotten his keys. Suetonius says Caligula made his horse (Incitatus) a Senator? Wagner can have his Cal appoint a fish Deputy Chief Judge. Yes, Judge Fish is the spectacular character find of 1978! Who can ever forget his sage advice, "Bloop!" or his heartbreaking "Bloop! Bloop!" Gets me every time. Wagner has a ton of fun with Cal's credulity straining antics so we'll not spoil it for anyone. But, y'know, Judge Fish!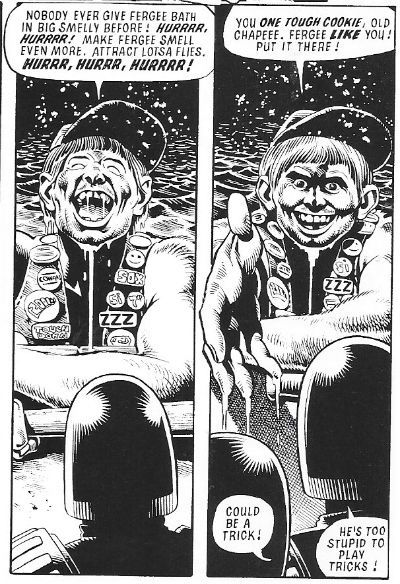 JUDGE DREDD: THE DAY THE LAW DIED by Bolland, Wagner & Frame
Artistically "The Cursed Earth" was a two-hander between McMahon and Bolland, with McMahon's hand being comically large like that of a cartoon mouse and Bolland's being more refined and smaller like that of a lady of means. "The Day The Law Died" is more of a scrum; there's a real pout pourri of art styles on display for the length of the epic. In a North American mainstream genre comic this would lead to a right buggers' muddle and generally not work terribly well. Here it works out surprisingly well. Regular 2000AD readers (and Brit comic readers in general) were conditioned to understand that a strip's artist could change at the drop of a hat. Being too young to be anything other than positive it was viewed as more of an opportunity to see a different style, rather than an indication that Terry Blesdoe had had to step in because Barry Teagarden had started shouting at buses due to the punishing demands of drawing 8 pages of Space Urchins every week for wages that would shame Sports Direct. It helps also that there's a definite visual through line. Say Mike McMahon ends his strip with Dredd's gun arm stuck deep in a Klegghound's gullet, next Prog Brian Bolland will start his strip with…Judge Dredd's gun arm stuck deep in a Klegghound's gullet. And although every artist tends to draw MC-1 and the Judges with their own slightly quirky way, you are still clearly reading a strip about a future cop in a future city.
JUDGE DREDD: THE DAY THE LAW DIED by McMahon, Wagner & Frame
Big Brian Bolland leads us in with his reliable clarity of line and subtle undermining of his hyper realism via restrained caricature. As ever his episodes are few and far between but always a tight delight. Mike McMahon gets stuck in, his work here being a bit airier than on "The Cursed Earth" but no less manic or delightfully inventive. By now Mike McMahon is able to bend reality to his scrappy whim and can populate his strip with what look like maltreated Muppets lolloping about a claustrophobic jumble of a city without once endangering the reader's suspension of disbelief. There are also strong hints of McMahon's next evolution in style peeking through, but right here  right now Mike McMahon's work is sweet indeed! Gary/Garry Leach looks like he's got too much ink on his brush and that spoils his usual majestic delicacy of line this time out. Brett Ewins and Brendan McCarthy team up and their combination of rigidity and fluidity creates an interesting effect each couldn't achieve alone. Picking up the baton for the last stretch is Ron Smith. I understand Ron Smith is a divisive artist for a lot of Dredd fans, due primarily to his cavalier attitude to continuity of the series' designs. Despite being in the top ten in terms of Dredd output (probably, I can't be arsed to check) there's not likely to be a "Dredd by Ron Smith" volume any time soon. Which is a shame, because I think Ron rocks. Like McMahon he can lard a page with a so much detail and information it's staggering. His page layouts are always striking, with at least one dominant image to grab the eye, and sometimes more, so the eye bounces about the page, but always in the right direction. He shows a remarkable agility with regards to shifting scale between panels without jarring the eye, and the amount of detail he crams in is ridiculous. I'm a particular fan of his hyperbolic body language, shown off here to best effect by Cal's contortions as his mania grips him. Look, Ron Smith is the man who drew "Sob Story", "The Man Who Drank The Blood of Satanus", "The Black Plague", "The Hot Dog Run", "Shanty Town", "Tight Boots" and co-created not only Chopper but also Dave, the orang-utan mayor. John says Ron's The One!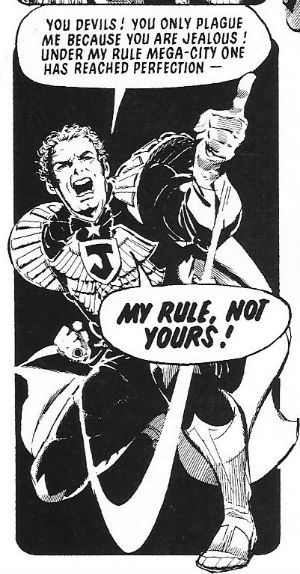 JUDGE DREDD: THE DAY THE LAW DIED by Smith, Wagner & Frame
"The Day The Law Died is an artistic mish mash held together by the strength of the various styles on show and John Wagner's elegant and understated blend of absurdity, drama and action. It's VERY GOOD!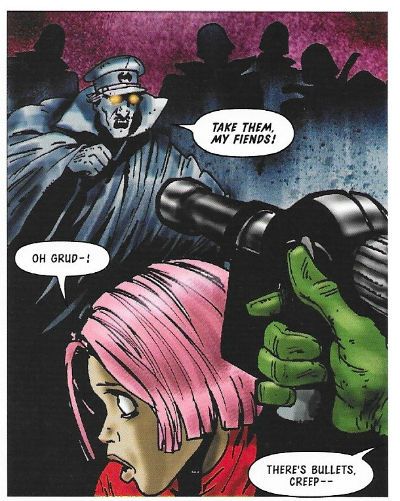 JUDGE DREDD: HELTER SKELTER by Ezquerra, Ennis, Blythe & Frame
This volume of JUDGE DREDD: THE MEGA COLLECTION also includes "Helter Skelter" a 12-parter from the year 2001 which marked Garth Ennis' return to the character of Dredd. In comparison to the "Day The Law Died" it's a slight effort indeed, but not without its charms. An experiment in dimension mapping comes unstuck when a probe returns with what looks remarkably like the Geeks from the old 2000AD strip THE V.C.S. Further incursions of the familiar occur, and it all turns out to be a plot by Judge Cal from another dimension to kill Dredd, since he can't stand the idea that there's a dimension where Dredd won. Cal is accompanied by an army of Judges, a bunch of Dredd's old enemies (dead in this dimension: Fink, Rico, Murd The Oppressor, Cap'n Skank, etc) equally upset at the thought of a live Dredd and a bunch of dimensional flotsam and jetsam  familiar to elderly Squaxx Dec Thargo, or keen readers of reprints.
JUDGE DREDD: HELTER SKELTER by Flint, Ennis, Blythe & Frame
It's all done with a sense of fun (there are roughly "two thousand" dimensions already mapped. Ho ho!)  and while it trades unashamedly in nostalgia there's enough of a plot and some decent jokes to leave you with a smile (and maybe a little tear as you recall Ace Garp's sign off floating through the air). Carlos Ezquerra draws the bulk of it and is as reliably Carlos Ezquerra as ever. Most notable are his computer manipulated backgrounds which are interesting reminders that he was a swift adopter of new tech. Henry Flint does a bit of it and he's as inkily delightful as ever, managing to evoke early McMahon while also being clearly his own man. "Helter Skelter" has some good scenes and makes a valid point about the Judges (they don't do it for their benefit but for the citizens' benefit) but is never really more than a bit of a nicely illustrated lark. GOOD!
NEXT TIME: Uh, maybe look at some other bits of Dredd's world? People seem interested in that judging from the, uh, two comments. So pack your swimsuit and your sun oil! Factor 2000!